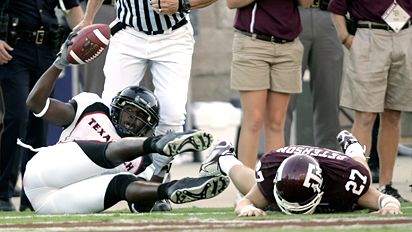 There seems to have been some debate this week about
rivalry
:
Aggies saying Tech isn't their rival
and what not. I don't blame them. I don't think the
Tech
/
A&M
game is the biggest game of the season myself. I didn't even realize it was this weekend and made some other plans for Saturday afternoon. As a result, I had to tape the second half, and I'm still trying to watch it. Tech has won 9 of the last 12 games in the series, so if I were an Aggie, I'd want to say that the game isn't a rivalry game, too.
I'll wear red and black every day of the week leading up to the
Texas
game, but the Aggies only scored a red sweater on Friday. I certainly see UT as a more respectable opponent. I keep finding this idea in print that as far as Texas football goes, it's 1) Texas, 2) Texas A&M, and 3) Texas Tech. These people need to join the 21st century. Am I wrong?
Saturday's game was another close one in the series, but
this one may hurt Aggies most of all
, says A&M sports writer Richard Croome. The game was such a close one, and since we won, I couldn't let it pass without comment. Thank goodness for
Robert Johnson
,
Shannon Woods
, and
Joe Garcia
on the Raiders' side. And we never know what that mad scientist
Mike Leach
is going to say. This week's post-game commentary included ranting about
Spy vs Spy
or something. Also one pirate metaphor, "Once in awhile, a pirate can beat a soldier, you know." I like his eccentricity and unprententiousness, but sometimes I wonder if someone less loopy is really running the team. Please see also:
Swashbuckling Leach, Red Raiders pillage Aggies
.
Next week's opponent: undefeated Missouri.