Happy Inauguration Day! I'll take any excuse to party, but this one is probably legit.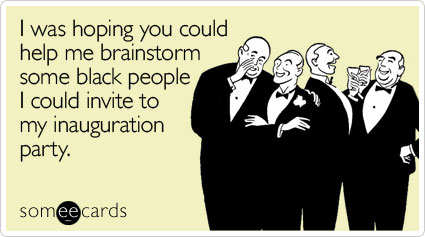 If you're trying to brainstorm what to serve at your party, I've seen a few ideas floating around the Interwebs.
The 2009 Inaugural Luncheon Menu with recipes is
here
. I read that the three-course menu is the same as that served after Abraham Lincoln's inauguration in 1861. Hopefully only the menu is the same, and the food is fresh. I'd hate for the president and friends to get sick after eating some Civil War surplus rations.
Update:
Ted Kennedy
left the luncheon in an ambulance
.
I've been nagging Chester to send me some of these cookies from
Eleni's
to no avail. But priced at $59.50 (plus shipping) for 16 cookies, who could blame him? Maybe they'll be in the thrift sale tomorrow with the day old stuff.
Cosmic Chocolate Shop makes
these
Barack Obama espresso cognac chocolates.
Obama Cupcakes
and
Red, White, and Blue Obama Bars
courtesy of
The Food Librarian
. You must check out the
presidential cake wrecks
.
Baked goods not your thing and you crave ice cream in the dead of winter? Try Baracky Road Gelato currently available from
Zingerman's
.